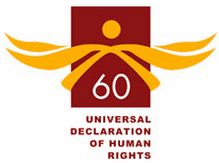 STAY CONNECTED WITH ART FOR THE WORLD
ART for The World
ART for The World is a non-governmental organization founded to build a bridge between art and society, with contemporary art serving humanitarian purposes.
Inspired by the Article 27 of the Universal Declaration of Human Rights, "Everyone has the right to take part freely in the cultural life of the community, [and] to enjoy the arts," ART for The World aims to engage art as an important tool for fostering dialogue among diverse peoples, cultures, and worldviews to encourage tolerance and solidarity in the defence of human rights, underlying the importance of the relationship between the artist and the most compelling issues of our time.
Founded in 1995 in Geneva as a direct outgrowth of the Dialogues of Peace exhibition in the context of the fiftieth anniversary of the United Nations, its activities involve the participation of artists and filmmakers from around the globe.
In conceiving its international traveling art exhibitions, performances, film productions, and concerts, the NGO merges ethics with aesthetics to build cross-cultural relationships and promotes education, well-being, and sustainability.
Conceived as a museum without walls, ART for The World is a collaborative effort with the participation of artists, international institutions and corporations from all corners of the globe sharing these underlying ideals, these activities expand and reach beyond the traditional confines of art, becoming more inclusive and accessible to a broader audience.
In 2005 its sister NGO, ART for The World Europa, was established in Turin as its rhizomatic expansion. The activities of both organizations are based on the ideals of human rights, including dignity, freedom, peace and stability.
Vito Acconci, Self-Writing Billboard, 1998–1999, from Art & Social Realities, UNHCR, Geneva, 2000
Kimsooja, A Needle Woman, 1999–2001. Video still, 8 channel video projection, 6'33" loop, silent. From Art & Social Realities, 2000